Back to blog listing

The Broom Marine Services team have just had a very busy 10 days at the Southampton Boat Show with lots of visitors to the stand, the familiar faces of regular customers and lots of new ones too! We were delighted to launch new products for 2017 at the show, and will now have demonstration models available to view in the office.
The first of these being Rockford Fosgate marine audio which is new to the market. Rockford Fosgate are a market leader in premium stereo systems, speaker and amplifiers and well renowned for superior sound quality. They have just launched their marine audio range and based on their credentials in other sectors, we think this is going to be hugely popular. The range consists of full media centres incorporating Can Bus protocol, Bluetooth, iPod/iPhone/iPad and Android compatibility, USB input, aux input, AM/FM radio as well as Sirius and Pandora Internet radio. All the source units are IPX6 rated and feature colour screens. More information here.

Also new for 2017, we are able to offer a wide variety of custom boat names – made to order to suit your requirements. From eyecatching 3D designs which can be backlit in a wide range of colours, through to the more traditional handpainted boat names and plaques. All available in a variety of fonts, colours and sizes to create something truly unique for your boat. Our fabrications team can produce stainless steel cut names in a design of your choice, which can look really elegant, and you could also have additional small badges for the interior of the boat if required. If you are considering an illuminated name we know that it can be hard to visualise the effect, so we can mock up designs using a photograph of your boat to show you how the design will look in both day and night conditions. Vinyl cut names are enduringly popular and a very cost effective way of making your boat truly unique. The team can produce almost anything, and the design is applied by a specialist technician to ensure a perfect finish. We have some samples available to look at, or if you are wanting inspiration, a walk round our marina usually enables you to see every sort of design, and if it isn't there, we're sure we can make it!
Alongside these new offerings, we were also showcasing the wide variety of other products and services available from Broom Marine Services. For this year made a scaled down canopy for the show complete with stainless steel framework to demonstrate our capability to create canvas work for any boat type. This particular one is based on recent design undertaken for English Harbour Yachts. All canopies, upholstery, soft furnishings and boat covers are made-to-measure by hand ensuring a perfect fit and finish every time.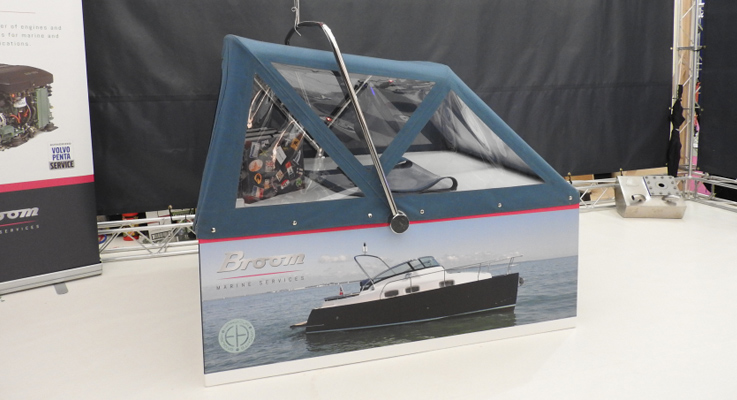 The Southampton Boat Show is the perfect place to talk all things boats with customers, and a quick enquiry for new fenders can often lead to exploratory conversations regarding refurbishments, repairs and engine servicing. By being able to undertake all works in the one location, we can offer great value and are happy to advise on priorities and schedules of works to suit the customers timescales and budget.
If you are considering having any works done this winter, why not give one of the team a call to talk through your requirements and get your work booked in nice and early!