Back to blog listing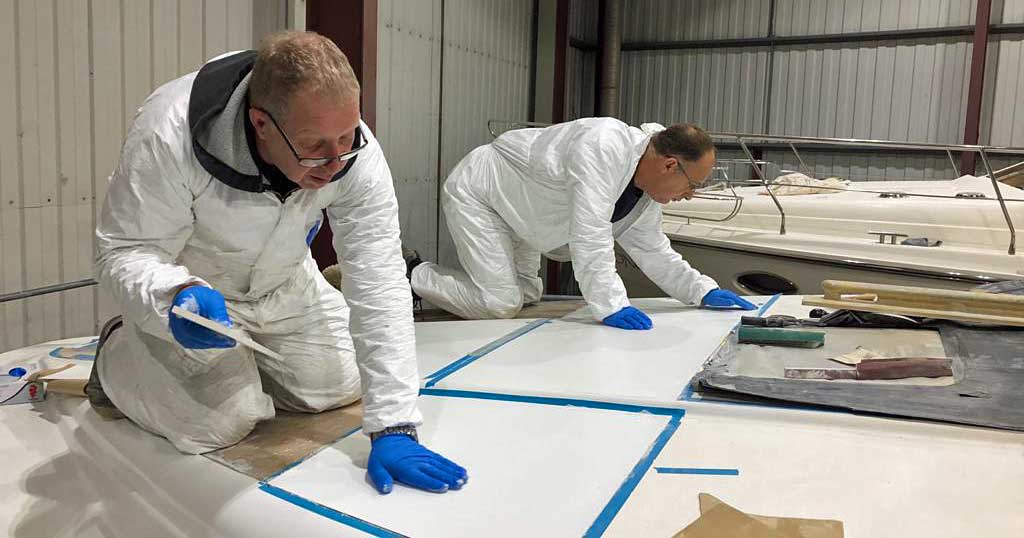 The fire was so hot it distorted the steel rails
It was surprising that the Broom 33 and 41 weren't written off, given the damage. The Broom 41 in particular had major fire damage and needed extensive boat repairs.
The damage was caused by a fire that broke out on a neighbouring vessel. The fire spread throughout the marina causing damage to 15 boats, including the two Brooms.
The gel coat on both boats had blistered and melted in the heat. This gel coat boat repair alone was time consuming and required specialist skills. We had to grind off the damaged gel coat down to the chop and strand mat. We then built the repair back up to blend it with the original coat.
The Broom 33 suffered heat damage around the transom and dodgers. We repaired the gelcoat and replaced the melted radar, cockpit canopy and upholstery.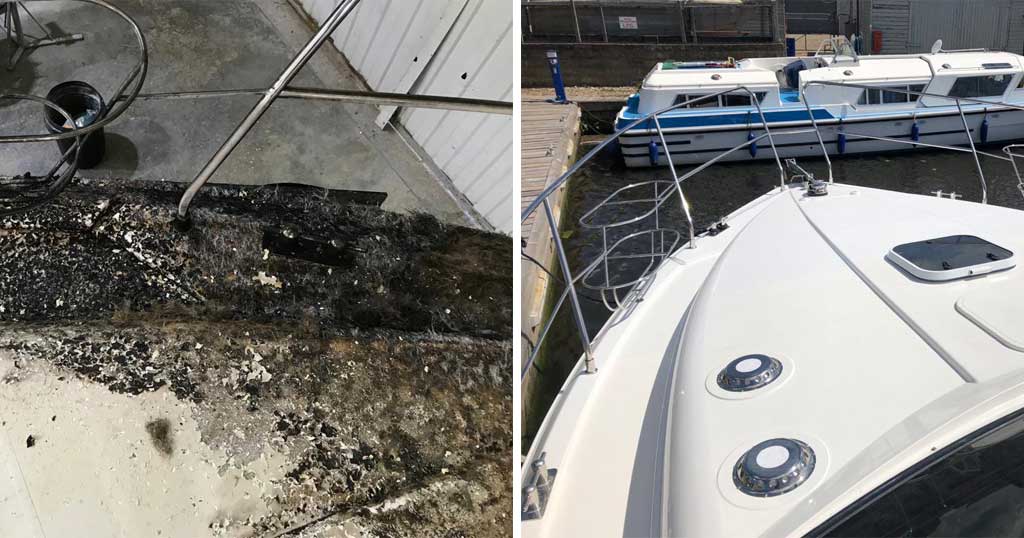 The 41 went bow-to-bow with one of the burning boats. This melted the cockpit window, the forward escape hatch, search light, tv antenna and caused the gelcoat to blister. The fire was so hot it even distorted the stainless-steel handrail, fender baskets and other fixings.
A major part of the restoration included re-tooling the curved Perspex window. The foredeck also needed re-skinning with the original textured finish. To restore this as requested by the insurer we needed a mould. Luckily the 33 had the same finish so we took a flash mould to repair the 41.
Since both boats were in the workshop for several weeks, the owners took the opportunity to carry out personal work. We upgraded the 33 with a bow thruster. We also installed a new fridge, repaired interior woodwork and carried out general maintenance. The Broom 41 also received interior maintenance, new antifouling and anodes.
If you have an insurance claim or want to talk to us about boat repairs, get in touch.