Back to blog listing
At the end of last season we received a call about a boat that had sustained serious damage on the Broads and was in need of some extensive repairs, could we help? The boat was a Summercraft 35ft wooden cruiser which was in quite a sorry state when the Heritage team went to see her. However, whilst the damage was serious, it was nothing that the team couldn't put right, so arrangements were made for her to come to Broom. She arrived boarded up and it wasn't until this was removed that the full extent of the damage was revealed. Not only was there a very large hole, there was significant cracking right along the hull. Sitting behind the timberwork to that rear corner of the boat was the gas tank which was also damaged.
To start with each damaged plank needed to be stripped out and as you can see from the photographs there was quite a lot to remove as even slight splitting to the end of a timber renders it useless, and compromises the integrity of the entire hull.
Once that was complete, work could start on constructing a temporary framework, in order for the new timbers to be steamed in place. This method allows the new timbers to follow the curve of the hull perfectly.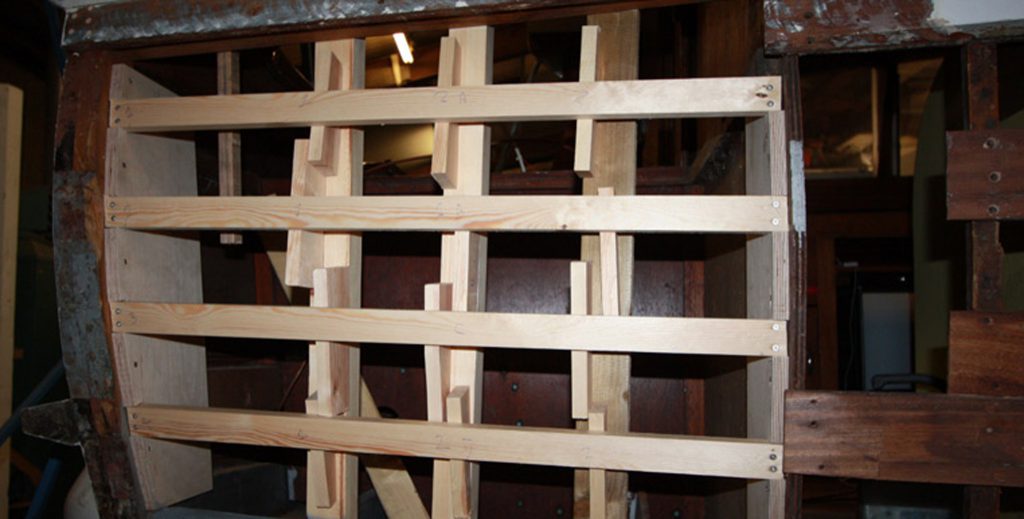 The new planking was then scarfed into the existing timberwork and then caulked up and faired ready for painting.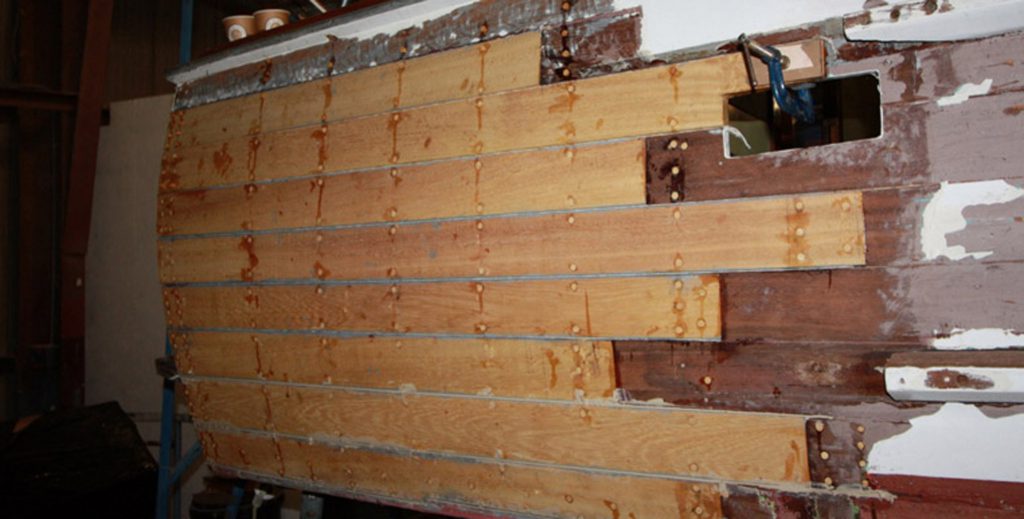 A primer coat was applied to prepare the surface for a top coat of paint. As part of this work the interior was also repaired and repainted ready for the gas tank to be reassembled. Our stainless team were able to rescue the damaged tank and so managed to save the owner some money on a new one!
She is now completed and is sound and safe for the new season.
Serious damage to a boat need not mean the end of the road. Whilst replacing timbers is time consuming and a skilled job, it is fairly straightforward. GRP repairs are also possible and new mouldings and laminates can be manufactured to replace damaged sections if you have the skills and facilities. We are lucky at Broom to have all this expertise under one roof which means that an owner can control costs by keeping the boat in one location and having all work completed by one company.
If you have a boat requiring repair or renovation then please get in touch to see how we can help.