Back to blog listing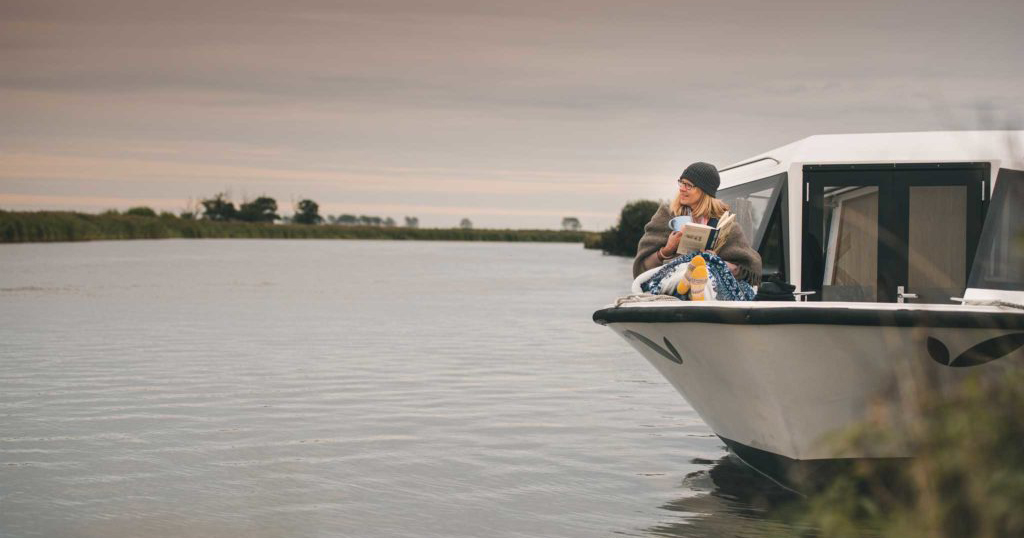 Autumn boating holidays
There's something quite charming about boating holidays on the Norfolk Broads in autumn and winter. Spider webs glisten with early morning mist, cloudy skies appear to go on forever, and leaves of reds and golden browns line the riverbanks.
The rivers and broads become quieter as the winter months approach. This makes it the ideal time of year for exploring the many nature reserves and for spotting wildlife.
Dawn and dusk are when animals are most active. Seek out calm areas of water, particularly around dykes, reed beds and where wooded areas or farmland meet the water.
There are also many heritage sites to visit and riverside pubs to warm up in. Historic Norwich is around two hours upstream from Broom. Take a stroll around the galleries in Norwich Castle, the cathedral cloisters, or shops in Chantry Place.
Broom Boats luxury cruisers are all heated and equipped with blankets to keep you warm on those autumnal evenings. You could also treat yourself to a ready-to-cook breakfast hamper for that first morning waking up on the Norfolk Broads.
Don't forget to bring some extra layers of warm clothing, wet weather gear, plus a hat in case of winter sun. Wear your life jackets as instructed and be extra vigilant getting on and off boats. Jetties can become slippery and banks unstable during the wetter months.
Select and book a Broom Boats holiday here, or spend a half day or full day exploring the Norfolk Broads on a day boat.
Useful links about boating holidays on the Norfolk Broads
River safety videosRiver speed limits and other rules of the river