Back to blog listing
The Norfolk Broads – a refuge for wellbeing
Take it from us; once you get used to driving the boat, there's nothing quite like being on the river. With the wind in your hair and the sun on your face, having caught a glimpse of a passing otter or a hovering kingfisher, you'll be ready to take on the rat race once more.
The Norfolk Broads consists of 125 miles of man-made, lock-free waterways framed by green fields, marshes, and woodland. Seven rivers make up the Broads, including the Bure, Yare, and Chet.
Norfolk Broads boat hire is a quiet, leisurely way to explore this region. Visit one of the nature reserves, discover the many heritage sites, or moor up at one of the traditional Norfolk towns and villages.
With room to get lost, but not actually lost
Despite being 125 miles, it's relatively difficult to get lost as there're no roundabouts or complicated junctions to negotiate. Maps are readily available, and the main routes are marked.
The Northern Norfolk Broads stretch north of Great Yarmouth and tend to be busier in the summer. The Southern Broads start south of Breydon Water and are popular with nature spotters, walkers, and cyclists.
You can go almost anywhere, except the occasional private broad (area of water) or cut (small river). You can moor up provided it doesn't say 'private mooring'.
Free, paid for, and prohibited moorings are marked along the riverbank. When you book with Broom, we'll also send you a map of the Norfolk Broads with the moorings marked.
The most popular destinations in the north are Horning, Wroxham, Ludham, and Coltishall. In the south, holidaymakers head for Beccles, Oulton Broad, Loddon, Reedham, and Norwich.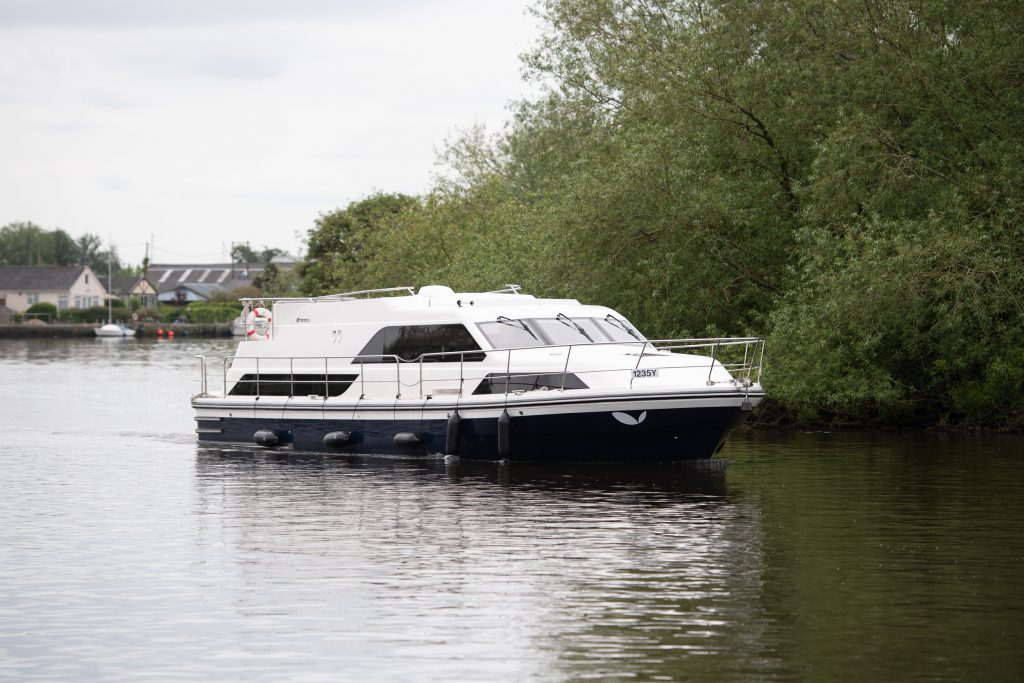 For the Captain of the boat
If you've never driven a boat before, where you're going will be the last thing on your mind. Driving a boat isn't like driving a car, but you'll soon get the hang of it with a few pointers.
There are no pedals, just a steering wheel and gear lever
Slowly turn the steering wheel and do not oversteer. Take the tide into consideration
The speed limits vary and must be heeded. Everything is a lot slower on the river
Boat hire companies provide instruction, and you can take the boat for a spin before your crew comes on board. The Broom Trial Run takes a minimum of 45 mins
There are some rules of the river, but not too many to remember
Watch our trial run video for a taster
Boating instruction and safety
You don't need a license to drive a hire boat, and all reputable boat hire companies will show you how to manoeuvre and operate the boat. Instruction manuals are usually available onboard so that you can refer to them during your holiday.
Emergency contact numbers are also available onboard. Boat hire companies like Broom provide phone support and have vehicles available should you have a problem with the boat.
You will be fitted with lifejackets when you collect your boat. Please follow the safety instructions provided by the boatyard. We also recommend that you watch our safety videos before your holiday.
Booking your Norfolk Broads boating holiday
Boat hire companies operate out of most of the main Norfolk Broads towns. Brundall is the most popular starting destination in the Southern Broads and Wroxham in the north.
If you're planning a two-week stay or are a seasoned boater, you can plan to explore both the north and south. For first-timers or one-week breaks, you may prefer to stay on either side of Breydon Water, as crossing this area can be tricky.
Either book direct with the boatyard if available or search via location and dates with Hoseasons boats. Click here to view Broom boating holidays.
Planning your boating holiday
The Norfolk Broads is full of twists and turns, and due to the slow speeds of the river it takes longer to reach your destination by boat than by car. But that's part of the fun and you will feel yourself unwind very quickly.
Use this river distance calculator to plan your days out. Make sure you leave enough time to moor up at your overnight destination since sailing at night is prohibited for hire boats.
There's plenty to see and do within a short walk, cycle, or taxi ride from the river. Try one of these ten more adventurous Norfolk Broads experiences.
Dogs are allowed on some boats, which is usually specified in the boat description. However, if you plan on taking a walk in one of the many nature reserves, check whether dogs are allowed before visiting.
Packing for your boating holiday
You may want to leave the heels at home and bring a good flat pair of shoes for walking on deck. Layers are also recommended. After all, this is the UK, so we needn't tell you that the weather can be changeable. Likewise pack your sun cream for protection.
Hairdryers are sometimes provided, but straighteners are generally not. The boat power systems prefer that not all appliances are used at the same time. Check the hiring company's website for whether items such as bed linen and towels are included.
Storage facilities vary. A Broom boat, for instance, has storage facilities such as hanging space, draws, and hidden storage compartments. We recommend packing in bags rather than suitcases as these can be more difficult to stow away on a boat
The Broom luxury Norfolk Broads hire boats are equipped for a comfortable stay on the river. We use washable duvets and pillows, which are all professionally laundered, so bed linen isn't needed. But you will need to bring towels.
Day boat hire on the Norfolk Broads
If you're staying in a BnB or just visiting the Broads for the day, you could hire a day boat. These are also available for hire from some locations on the Northern and Southern Broads. Our Broom Day Boats are fully electric and provide a tranquil experience for customers and wildlife.
Broom in Brundall is a great starting point for day trips. Left out of Broom takes you downstream towards Reedham. The river winds its way through the protected marshlands of Strumpshaw bird reserve. Within 15 minutes you'll come to Coldham Hall where you can moor at the pub.
Continue past Coldham Hall and Langley Staithe to Rockland. You can take a picnic and walk around the broad or visit the New Inn for some lunch.
Turning right out of Broom Boats takes you upstream towards Norwich. Surlingham Broad is a lovely place to visit and is around 15 minutes from Brundall.
Other hire craft
Canoes and stand-up paddleboards are popular with holidaymakers to the Norfolk Broads. You can hire these by the hour, part day, or day from various places, including Whitlingham Broad near Norwich and TheCanoeMan in Norwich or Beccles.
Helpful Links